Cape Breton Regional Police Service
"Serving With You -For You"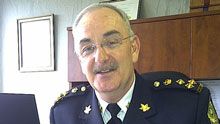 Cape Breton Regional Police Chief Peter McIsaac
Peter McIsaac 51 started policing in his hometown of New Waterford in 1986, after graduating from the Atlantic Police Academy. After 3 years he was appointed to sergeant, and after amalgamation in 1995, he became east division platoon sergeant for the newly formed Cape Breton Regional Police Service. Within a few years, McIsaac was up graded to New Waterford's community sergeant, followed by sergeant in charge of major crime. He was then promoted first to staff sergeant in charge of operations in east and central divisions and eventually to inspector in charge of operations and finance.
Chief Myles F. Burke, B.A.C.S., M.O.M
April 9th 2011 Chief Myles F. Burke, M.O.M. Passed away at the young age of 49.
In his 28th year in policing, Myles was appointed Deputy Chief of the Cape Breton Regional Police Service in January 2008. He has extensive experience in all areas of policing from foot patrol, community policing, drug section to homicide investigations.
Myles has previously worked in the New Glasgow Police Department and the Calgary Police Service.
Having completed many courses at the Canadian Police College, he is also a graduate of the Bachelor of Arts of Community Studies program from the University College of Cape Breton, a graduate of the FBI national Academy, the FBI LEEDS Program, both in Quantico, Virginia. He holds certificates from the University of Virginia and Dalhousie University.
He has many years of volunteerism in a variety of organizations like the Cape Breton YMCA, Talbot House, YMCA Canada, and the United Way of Cape Breton where he currently serves Past Board Chair.
He is a recipient of the police Exemplary Service Medal and the recipient of the Member of the Order of Merit for the Police Services for Canada.
On October 7th, 2008 he was appointed Acting Chief of Police.
December 16th, 2008 Myles Burke was then appointed Chief of police of the Cape Breton Regional Police Service which will take effect February 1st, 2009.
He is also the Nova Scotia National Board Member on the Canada Association of Chiefs of Police.
Chief Burke continues to stay involved and volunteer in many community activities. In his spare time he enjoys running.
Chief Dave Wilson – Cape Breton Regional Police Service
Chief Wilson was born and raised in Sydney. He joined the City of Sydney Police Department 35 years ago in 1973. In recognition for his dedication and commitment to his community he was promoted to the rank of Corporal in 1983 and was placed in charge of the Sydney Drug Squad. Through his efforts an integrated approach to drug investigations was initiated leading to the areas' first Joint Forces Operations between the RCMP and local police department. In 1985 he was promoted to Sergeant and assigned to the Criminal investigations Division. Later he was transferred to the Patrol Division. In 1990 he was promoted to Inspector In 1993 he was promoted to Chief of Police for the Sydney Police Department. In January 1995 he was named Associate Chief of Police for the newly formed Cape Breton Regional Police Service. Working closely with then Chief Edgar MacLeod they began the difficult challenge to replace seven Municipal Police Departments into one. On 1 Aug 95 the Cape Breton Regional Police Service assumed full policing responsibilities in CBRM. His leadership was instrumental in negotiating a single collective agreement for wages for the new police service., which is seen as one of the most difficult assignments in the history of Nova Scotia Labour Relations and was accomplished without a police strike or binding arbitration. In June 2007 he led negotiations for policing on Membertou First Nation.