Mischief Saint Annes Church New Waterford
April 16, 2021
Overnight on the 16th of April 2021 obscenities, an inverted pentagram and the numbers 666 were painted on Saint Annes Church in New Waterford.
---
Stolen Jeep
April 15, 2021
On the 15th of April 2021 a blue 2013 Jeep Compass was stolen from a driveway at 216 Johnson Road in Georges River. The vehicle plate is 3P38 NS and it has a personalized plate of POPPY on the front. VIN # is 1C4NJDAB9DD114118
---
Mischief to vehicle
April 02, 2021
Police are investigating a mischief to vehicle in the area of Oxford Ave in Sydney Mines. The complainant advised that sometime after 9 PM Friday night on the 2nd of April and the following morning somebody punctured three tires on a vehicle.
---
NSLC Theft
March 31, 2021
Police are investigating a recent theft from the Sydney River NSLC. The male subject stole a bottle of Blue Lobster vodka, a bottle of Smirnoff No 21 PET vodka and a bottle of Wisers Special Blend Whiskey. Police are requesting the public's assistance in identifying this person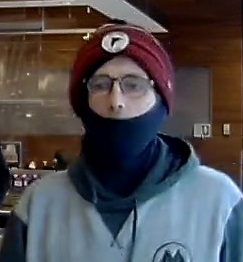 ---
Stolen vehicle
March 24, 2021
Police are investigating the theft of a vehicle from the Grand Lake Road area of Sydney. Overnight on the 24th of March 2021 a Red 2013 Chevrolet Sonic with plate FHA011 was stolen. The vehicle had about half a tank of gas.
---
Theft from Vehicle 13 Ritchie St.
March 18, 2021
Police are investigating a theft from vehicle overnight. Sometime after 5 PM on the 17th of March culprit (s) entered a parked vehicle and stole the owners gym bag containing a black Adidas jacket, a pair of black track pants and some cosmetics along with the owners pass to the YMCA
---
BE&T 257 Ling St. New Waterford
March 17, 2021
Police are investigating the Break Enter and Theft of copper pipe at a vacant residence located at 257 Ling St. in New Waterford. The house has been vacant for some time so it is not clear when this took place.
---
Catalytic Converter thefts
March 12, 2021
Police are investigating the ongoing problem of Catalytic Converter thefts.
On the 21st of January School Board Members reported 4 stolen from vehicles parked at 999 Gabarus Hwy file 2021-004360
On the 17th of February 6 were stolen from vehicles parked at 45 Industrial Ave in Sydney. Video shows the thieves, two thin built males wearing hoodies and masks.
---
Stolen Cadillac
March 11, 2021
Police are investigating the theft of a 2008 Grey Cadillac CTS with plate GLW 183 from the owners driveway overnight on the 11th of March, 2021
---
stolen vehicle/tools
March 10, 2021
Police are investigating a theft from a property located at 40 French Loop in Sydney. The landowner is away and has somebody checking on the property. On the 5th it was notice that the owners 04 Jeep Cherokee was stolen. It's red with plate FBJ 963
It appears some shed were entered and some tools were stolen as well
---
| | | |
| --- | --- | --- |
| Page 1 of 4 | 35 Records | Prev | Next |